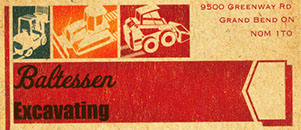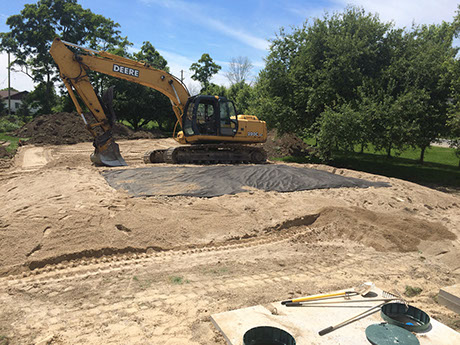 Residential Septic System Installation
Septic Inspection & Maintenance
As septic systems become more and more advanced and costly to install or replace, it is very important to ensure you are not damaging your system by over-using flushing harmful products down your drains. A new septic system may cost anywhere from $10,000 to $30,000 so it is very important to maintain your system. Just like your household furnace or air conditioner you should have a licensed contractor maintain your septic system to protect your investment.
Tanks installed prior to 2007 likely will not have a filter! This will cause untreated effluent to get into your distribution pipes and clog it up. It is extremely important to have an effluent filter in your septic tank. Think of it this way, if you would want a filter on your furnace to protect your furnace wouldn't you want the same for your septic.
Septic systems, just like every thing else have parts that break over time, if not inspected or noticed in time - a small issue may become a total replacement of the septic system.
Septic System Cottage Start Up
Are you a cottager who wants to enjoy your time when you are at the cottage and not worry if your septic is going to back up and make a long weekend dealing with septic backups and emergency pump-outs! As part of this type of inspection, we will check your system prior to cottage season, clean effluent filter and ensure it is in good working order condition, check integrity of baffles or inlet piping, check condition of septic tank.
Property Sale / Severence
Are you buying a new property and have no idea where the septic tank or distribution pipes may be located? Or if you are planning on severing a parcel of property and need a septic assessment for the municipality or county.
System inspection includes accessing septic tank, rinsing effluent filter and ensuring it is in good working condition check integrity of baffles or inlet piping, check condition of septic tank, ensure no clogged inlet pipes or outlet pipes, check oulet piping to distribution bed with sewer camera if possible, locate distribution pipes including sketch of septic system location within property limits. A small amount of excavation may be requiree.
Formal Letter
A formal letter then will be forwarded to homeowner stating status of septic system and advise on when tank should be pumped empty, as well as any concerns that may arise during the inspection.
Filter Cleaning
Your effluent filter that is installed in your septic tank should be rinsed off clean every six months. As time passes, this becomes forgotten or left off of the to do list because quite often the tank is not accessible or the fact that no-one wants to open there septic unless they really have to. Included in this inspection is a site visit twice per year to remove the filter and rinse any debris that may slow down effluent exiting the septic tank.
Address: 9500 Greenway Road
Grand Bend, Ontario N0M 1T0
Phone: 519-238-1218
Mobile: 519-636-8757