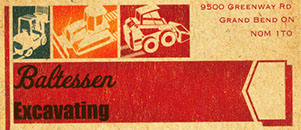 About Us
Baltessen Excavating / H & L Forming Ltd. was founded in 1982 by brothers & current owners Hank and Lambert Baltessen. The two brothers grew up in the Grand Bend area and have been in the construction business since they were young. The two were born into a working class family. The family business at the time was Baltessen Construction who was involved in making and installing pre-cast concrete structures as well as operating dump trucks and back-hoes. In 1982 Hank and Lambert decided to take it one step further and start their own business. Since that time the two have established themselves in Southwestern Ontario as a respected name in regards to concrete foundations, excavations and septic systems. Over the past many years H & L Forming and Baltessen Excavating has completed large scale projects ranging from schools, apartment buildings, barns, residential foundations and residential and industrial septic systems.
In 2009 Kevin, the son of Lambert, joined the family business and showed much interest in rural wastewater treatment. Since then Kevin has continued to find alternative options for homeowners that have septic issues or design constraints. As septic systems become more and more advanced and complex it became apparent that septic systems are a more important part of your home than some may think. Kevin is licensed under the Ontario Building Code to design and install septic systems.
In 2015 owners Hank and Lambert decided that after 33 years completing concrete projects in Southwestern Ontario that it was time to slow down that portion of the business and focus more on excavation, trucking and septic systems. Our complete line of equipment ranging from compact to large scale heavy equipment provides you with many options on how to complete your project, big or small.
Services
Foundation Excavation & Backfill
Site Grading
Demolition
Aggregate Supply
Hourly Equipment and Truck Rental
Fence Line Cleanup
Pond Excavation
Design and Installation of Septic Systems
Septic Maintenance and Inspections
Sewer / Septic Camera
Address: 9500 Greenway Road
Grand Bend, Ontario N0M 1T0
Phone: 519-238-1218
Mobile: 519-636-8757